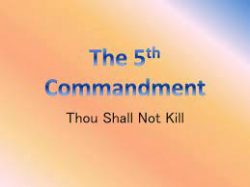 10/10 – Exodus 20:13 – YwtC – The Fifth Commandment
October 10, 2021
Old Testament Reading: Ezekiel 34:11–24
"For thus says the Lord God: Behold, I, I myself will search for my sheep and will seek them out. As a shepherd seeks out his flock when he is among his sheep that have been scattered, so will I seek out my sheep, and I will rescue them from all places where they have been scattered on a day of clouds and thick darkness. And I will bring them out from the peoples and gather them from the countries, and will bring them into their own land. And I will feed them on the mountains of Israel, by the ravines, and in all the inhabited places of the country. I will feed them with good pasture, and on the mountain heights of Israel shall be their grazing land. There they shall lie down in good grazing land, and on rich pasture they shall feed on the mountains of Israel. I myself will be the shepherd of my sheep, and I myself will make them lie down, declares the Lord God. I will seek the lost, and I will bring back the strayed, and I will bind up the injured, and I will strengthen the weak, and the fat and the strong I will destroy. I will feed them in justice.
"As for you, my flock, thus says the Lord God: Behold, I judge between sheep and sheep, between rams and male goats. Is it not enough for you to feed on the good pasture, that you must tread down with your feet the rest of your pasture; and to drink of clear water, that you must muddy the rest of the water with your feet? And must my sheep eat what you have trodden with your feet, and drink what you have muddied with your feet?
"Therefore, thus says the Lord God to them: Behold, I, I myself will judge between the fat sheep and the lean sheep. Because you push with side and shoulder, and thrust at all the weak with your horns, till you have scattered them abroad, I will rescue my flock; they shall no longer be a prey. And I will judge between sheep and sheep. And I will set up over them one shepherd, my servant David, and he shall feed them: he shall feed them and be their shepherd. And I, the Lord, will be their God, and my servant David shall be prince among them. I am the Lord; I have spoken."
Epistle: James 2:14–26
What good is it, my brothers, if someone says he has faith but does not have works? Can that faith save him? If a brother or sister is poorly clothed and lacking in daily food, and one of you says to them, "Go in peace, be warmed and filled," without giving them the things needed for the body, what good is that? So also faith by itself, if it does not have works, is dead.
But someone will say, "You have faith and I have works." Show me your faith apart from your works, and I will show you my faith by my works. You believe that God is one; you do well. Even the demons believe—and shudder! Do you want to be shown, you foolish person, that faith apart from works is useless? Was not Abraham our father justified by works when he offered up his son Isaac on the altar? You see that faith was active along with his works, and faith was completed by his works; and the Scripture was fulfilled that says, "Abraham believed God, and it was counted to him as righteousness"—and he was called a friend of God. You see that a person is justified by works and not by faith alone. And in the same way was not also Rahab the prostitute justified by works when she received the messengers and sent them out by another way? For as the body apart from the spirit is dead, so also faith apart from works is dead.
Holy Gospel: Matthew 25:31–46
[Jesus said:] "When the Son of Man comes in his glory, and all the angels with him, then he will sit on his glorious throne. Before him will be gathered all the nations, and he will separate people one from another as a shepherd separates the sheep from the goats. And he will place the sheep on his right, but the goats on the left. Then the King will say to those on his right, 'Come, you who are blessed by my Father, inherit the kingdom prepared for you from the foundation of the world. For I was hungry and you gave me food, I was thirsty and you gave me drink, I was a stranger and you welcomed me, I was naked and you clothed me, I was sick and you visited me, I was in prison and you came to me.' Then the righteous will answer him, saying, 'Lord, when did we see you hungry and feed you, or thirsty and give you drink? And when did we see you a stranger and welcome you, or naked and clothe you? And when did we see you sick or in prison and visit you?' And the King will answer them, 'Truly, I say to you, as you did it to one of the least of these my brothers, you did it to me.'
"Then he will say to those on his left, 'Depart from me, you cursed, into the eternal fire prepared for the devil and his angels. For I was hungry and you gave me no food, I was thirsty and you gave me no drink, I was a stranger and you did not welcome me, naked and you did not clothe me, sick and in prison and you did not visit me.' Then they also will answer, saying, 'Lord, when did we see you hungry or thirsty or a stranger or naked or sick or in prison, and did not minister to you?' Then he will answer them, saying, 'Truly, I say to you, as you did not do it to one of the least of these, you did not do it to me.' And these will go away into eternal punishment, but the righteous into eternal life."