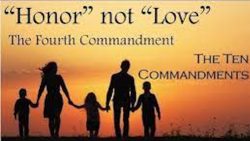 10/03 – Exodus 20:12 – YwtC: The Fourth Commandment
October 3, 2021
Old Testament Reading: Deuteronomy 6:1–9
"Now this is the commandment, the statutes and the just decrees that the Lord your God commanded me to teach you, that you may do them in the land to which you are going over, to possess it, that you may fear the Lord your God, you and your son and your son's son, by keeping all his statutes and his commandments, which I command you, all the days of your life, and that your days may be long. Hear therefore, O Israel, and be careful to do them, that it may go well with you, and that you may multiply greatly, as the Lord, the God of your fathers, has promised you, in a land flowing with milk and honey.
"Hear, O Israel: The Lord our God, the Lord is one. You shall love the Lord your God with all your heart and with all your soul and with all your might. And these words that I command you today shall be on your heart. You shall teach them diligently to your children, and shall talk of them when you sit in your house, and when you walk by the way, and when you lie down, and when you rise. You shall bind them as a sign on your hand, and they shall be as frontlets between your eyes. You shall write them on the doorposts of your house and on your gates."
Epistle: Romans 13:1–7
Let every person be subject to the governing authorities. For there is no authority except from God, and those that exist have been instituted by God. Therefore whoever resists the authorities resists what God has appointed, and those who resist will incur judgment. For rulers are not a terror to good conduct, but to bad. Would you have no fear of the one who is in authority? Then do what is good, and you will receive his approval, for he is God's servant for your good. But if you do wrong, be afraid, for he does not bear the sword in vain. For he is the servant of God, an avenger who carries out God's wrath on the wrongdoer. Therefore one must be in subjection, not only to avoid God's wrath but also for the sake of conscience. For the same reason you also pay taxes, for the authorities are ministers of God, attending to this very thing. Pay to all what is owed to them: taxes to whom taxes are owed, revenue to whom revenue is owed, respect to whom respect is owed, honor to whom honor is owed.
Holy Gospel: John 19:1–11
Then Pilate took Jesus and flogged him. And the soldiers twisted together a crown of thorns and put it on his head and arrayed him in a purple robe. They came up to him, saying, "Hail, King of the Jews!" and struck him with their hands. Pilate went out again and said to them, "See, I am bringing him out to you that you may know that I find no guilt in him." So Jesus came out, wearing the crown of thorns and the purple robe. Pilate said to them, "Behold the man!" When the chief priests and the officers saw him, they cried out, "Crucify him, crucify him!" Pilate said to them, "Take him yourselves and crucify him, for I find no guilt in him." The Jews answered him, "We have a law, and according to that law he ought to die because he has made himself the Son of God." When Pilate heard this statement, he was even more afraid. He entered his headquarters again and said to Jesus, "Where are you from?" But Jesus gave him no answer. So Pilate said to him, "You will not speak to me? Do you not know that I have authority to release you and authority to crucify you?" Jesus answered him, "You would have no authority over me at all unless it had been given you from above. Therefore he who delivered me over to you has the greater sin."