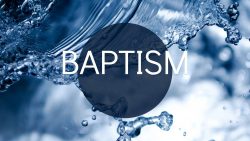 05/08 – Romans 6:1-11 – How can water do such great things?
May 8, 2022
Old Testament Reading: Isaiah 43:1–7
But now thus says the Lord,
he who created you, O Jacob,
he who formed you, O Israel:
"Fear not, for I have redeemed you;
I have called you by name, you are mine.
When you pass through the waters, I will be with you;
and through the rivers, they shall not overwhelm you;
when you walk through fire you shall not be burned,
and the flame shall not consume you.
For I am the Lord your God,
the Holy One of Israel, your Savior.
I give Egypt as your ransom,
Cush and Seba in exchange for you.
Because you are precious in my eyes,
and honored, and I love you,
I give men in return for you,
peoples in exchange for your life.
Fear not, for I am with you;
I will bring your offspring from the east,
and from the west I will gather you.
I will say to the north, Give up,
and to the south, Do not withhold;
bring my sons from afar
and my daughters from the end of the earth,
everyone who is called by my name,
whom I created for my glory,
whom I formed and made."
Epistle: Romans 6:1–11
What shall we say then? Are we to continue in sin that grace may abound? By no means! How can we who died to sin still live in it? Do you not know that all of us who have been baptized into Christ Jesus were baptized into his death? We were buried therefore with him by baptism into death, in order that, just as Christ was raised from the dead by the glory of the Father, we too might walk in newness of life.
For if we have been united with him in a death like his, we shall certainly be united with him in a resurrection like his. We know that our old self was crucified with him in order that the body of sin might be brought to nothing, so that we would no longer be enslaved to sin. For one who has died has been set free from sin. Now if we have died with Christ, we believe that we will also live with him. We know that Christ being raised from the dead will never die again; death no longer has dominion over him. For the death he died he died to sin, once for all, but the life he lives he lives to God. So you also must consider yourselves dead to sin and alive to God in Christ Jesus.
Holy Gospel: Matthew 5:1–26
Seeing the crowds, he went up on the mountain, and when he sat down, his disciples came to him.
And he opened his mouth and taught them, saying:
"Blessed are the poor in spirit, for theirs is the kingdom of heaven.
"Blessed are those who mourn, for they shall be comforted.
"Blessed are the meek, for they shall inherit the earth.
"Blessed are those who hunger and thirst for righteousness, for they shall be satisfied.
"Blessed are the merciful, for they shall receive mercy.
"Blessed are the pure in heart, for they shall see God.
"Blessed are the peacemakers, for they shall be called sons of God.
"Blessed are those who are persecuted for righteousness' sake, for theirs is the kingdom of heaven.
"Blessed are you when others revile you and persecute you and utter all kinds of evil against you falsely on my account. Rejoice and be glad, for your reward is great in heaven, for so they persecuted the prophets who were before you.
"You are the salt of the earth, but if salt has lost its taste, how shall its saltiness be restored? It is no longer good for anything except to be thrown out and trampled under people's feet.
"You are the light of the world. A city set on a hill cannot be hidden. Nor do people light a lamp and put it under a basket, but on a stand, and it gives light to all in the house. In the same way, let your light shine before others, so that they may see your good works and give glory to your Father who is in heaven.
"Do not think that I have come to abolish the Law or the Prophets; I have not come to abolish them but to fulfill them. For truly, I say to you, until heaven and earth pass away, not an iota, not a dot, will pass from the Law until all is accomplished. Therefore whoever relaxes one of the least of these commandments and teaches others to do the same will be called least in the kingdom of heaven, but whoever does them and teaches them will be called great in the kingdom of heaven. For I tell you, unless your righteousness exceeds that of the scribes and Pharisees, you will never enter the kingdom of heaven.
"You have heard that it was said to those of old, 'You shall not murder; and whoever murders will be liable to judgment.' But I say to you that everyone who is angry with his brother will be liable to judgment; whoever insults his brother will be liable to the council; and whoever says, 'You fool!' will be liable to the hell of fire. So if you are offering your gift at the altar and there remember that your brother has something against you, leave your gift there before the altar and go. First be reconciled to your brother, and then come and offer your gift. Come to terms quickly with your accuser while you are going with him to court, lest your accuser hand you over to the judge, and the judge to the guard, and you be put in prison. Truly, I say to you, you will never get out until you have paid the last penny.