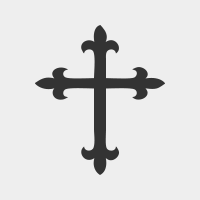 Wedding for Tanner Bergstrom and Christina Bos
September 7, 2019
Grace, to you and peace, in the name of Jesus, the Holy Christ of God. Amen.
The first thing I'd like to say to the two of you is thank you. Thank you for allow this congregation, and me, to be apart of your wedding. We've had a few bumps along the way, but I'm serious about this, I want you to know that I truly and genuinely, am proud to be a part of this very important and special moment in your life.
You did not have to come here. You could have gone to Vegas, a judge, of some kind of so-called chapel, which is really nothing more than a photo-op wedding. Instead you chose to come here, to have your wedding conducted, and your marriage blessed, by the God. That is not only something in which you can take great pride, but it is something in which your family can take great pride. Your family and I, have a lot of respect for you for making this very right choice. So again I'll say thank you for being here today.
… and what a beautiful day it is! The beautiful weather outside is nice. We have this beautiful sanctuary to conduct your wedding. Your attendants are dressed well. Everything appears wonderful. The most beautiful thing however is not something you can see. It's something that is heard.
In just a moment you will speak beautiful and holy words of love to one another. You will commit yourselves, wholly and without reservation or hesitation, to God and to one another. You will speak the words of a beautiful covenant with each other, the covenant of holy matrimony. A lifelong promise. An incredible promise. A beautiful promise, given to each other.
That beautiful promise is summed up in two little words: "I will." You will live in holy marriage according to the Word of God. You will comfort, honor, respect and keep each other until death separates you, according to God's design. That is not something you need to do on your own. I, your family, and this entire congregation, are here to help you do that. That is part of what church is all about. Standing together through life's troubles and joys. Those two words, "I will" sum up that beautiful commitment and promise from God to you.
Now some are skeptical, or cynical, of those words, and that commitment. Some will say that such commitment in our modern time is just not possible. You will hear words like, "Just wait until reality hits."
How do two sinful people commit themselves to such a serious and permanent promise given before God? Shouldn't you really just promise to try? No.
When you say, "I will" you are saying you will do it. That is what today is all about. They are words not only for now, but for your future. You are defining the rest of your life. With those words, you no longer have individual futures. You become one, and as such become each other's futures. The words "I will" are words of commitment. You are promising that every new day will be another day in which you are committed to comforting, honoring, respecting, keeping, and loving each other, according to the Word of God. When you say, "I will" you are expressing words of forgiveness, because they focus always on the future, they forget the past. Where there may be failures to love as God teaches us to love, forgiveness covers them and allow you to continue in life together.
These words, "I will" are one more thing. Because they are spoken to, and in the presence of God, the words "I will" are also a prayer. Nothing else is more clear or more important to know. As you speak to one another, you speak before God. In fact all that we do here today is done in prayer to God, especially your holy, godly, promise to each other. Without that fact, the cynics are will be right. The promise is too much for any of us to keep without God's help.
… but with God, who has shown Himself and His salvation to us in Jesus, … with God these promises are holy, perfect, and completely possible. The Bible says, all love comes from God:
"Not that we have loved God first, but that He loved us first, and sent His Son to be the full and complete payment for our sins, even though we had done nothing to deserve it.1"
God, who is love, is the only one who enables our love to exist or to continue. Your words today put you continually under God's grace and guidance throughout the rest of your life.
As the reading, you chose, from 1 Corinthians reminded all of us, God is the one who defines love, and He will be with you daily, to keep the love that is patient, kind, not envious, boastful, or proud, alive in your marriage.
The last thing I want you to know about these words "I will" is this. These words of prayer remind you of God's forgiveness for both of you, in Jesus. Forgiveness He earned on the cross, that will empower you to forgive and forget, moving on again and again, from the past, to each new day in which you say again, "I will."
"I will be faithful to you."
"I will love you."
"I will be your husband; your wife."
"I will, until death separates us."
May God sustain you in that love, His love, until life's end on this Earth bring you to eternal life with Him forever.
In Jesus' name. Amen.