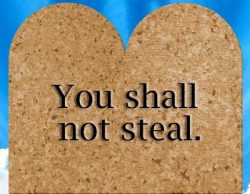 10/24 – Exodus 20:15 – YwtC: The Seventh Commandment
October 24, 2021
Reading: Joshua 7:10–26
The Lord said to Joshua, "Get up! Why have you fallen on your face? Israel has sinned; they have transgressed my covenant that I commanded them; they have taken some of the devoted things; they have stolen and lied and put them among their own belongings. Therefore the people of Israel cannot stand before their enemies. They turn their backs before their enemies, because they have become devoted for destruction. I will be with you no more, unless you destroy the devoted things from among you. Get up! Consecrate the people and say, 'Consecrate yourselves for tomorrow; for thus says the Lord, God of Israel, "There are devoted things in your midst, O Israel. You cannot stand before your enemies until you take away the devoted things from among you." In the morning therefore you shall be brought near by your tribes. And the tribe that the Lord takes by lot shall come near by clans. And the clan that the Lord takes shall come near by households. And the household that the Lord takes shall come near man by man. And he who is taken with the devoted things shall be burned with fire, he and all that he has, because he has transgressed the covenant of the Lord, and because he has done an outrageous thing in Israel.'"
So Joshua rose early in the morning and brought Israel near tribe by tribe, and the tribe of Judah was taken. And he brought near the clans of Judah, and the clan of the Zerahites was taken. And he brought near the clan of the Zerahites man by man, and Zabdi was taken. And he brought near his household man by man, and Achan the son of Carmi, son of Zabdi, son of Zerah, of the tribe of Judah, was taken. Then Joshua said to Achan, "My son, give glory to the Lord God of Israel and give praise to him. And tell me now what you have done; do not hide it from me." And Achan answered Joshua, "Truly I have sinned against the Lord God of Israel, and this is what I did: when I saw among the spoil a beautiful cloak from Shinar, and 200 shekels of silver, and a bar of gold weighing 50 shekels, then I coveted them and took them. And see, they are hidden in the earth inside my tent, with the silver underneath."
So Joshua sent messengers, and they ran to the tent; and behold, it was hidden in his tent with the silver underneath. And they took them out of the tent and brought them to Joshua and to all the people of Israel. And they laid them down before the Lord. And Joshua and all Israel with him took Achan the son of Zerah, and the silver and the cloak and the bar of gold, and his sons and daughters and his oxen and donkeys and sheep and his tent and all that he had. And they brought them up to the Valley of Achor. And Joshua said, "Why did you bring trouble on us? The Lord brings trouble on you today." And all Israel stoned him with stones. They burned them with fire and stoned them with stones. And they raised over him a great heap of stones that remains to this day. Then the Lord turned from his burning anger. Therefore, to this day the name of that place is called the Valley of Achor.
Reading: Ephesians 4:25–32
Therefore, having put away falsehood, let each one of you speak the truth with his neighbor, for we are members one of another. Be angry and do not sin; do not let the sun go down on your anger, and give no opportunity to the devil. Let the thief no longer steal, but rather let him labor, doing honest work with his own hands, so that he may have something to share with anyone in need. Let no corrupting talk come out of your mouths, but only such as is good for building up, as fits the occasion, that it may give grace to those who hear. And do not grieve the Holy Spirit of God, by whom you were sealed for the day of redemption. Let all bitterness and wrath and anger and clamor and slander be put away from you, along with all malice. Be kind to one another, tenderhearted, forgiving one another, as God in Christ forgave you.
Reading: Matthew 6:19–24
"Do not lay up for yourselves treasures on earth, where moth and rust destroy and where thieves break in and steal, but lay up for yourselves treasures in heaven, where neither moth nor rust destroys and where thieves do not break in and steal. For where your treasure is, there your heart will be also.
"The eye is the lamp of the body. So, if your eye is healthy, your whole body will be full of light, but if your eye is bad, your whole body will be full of darkness. If then the light in you is darkness, how great is the darkness!
"No one can serve two masters, for either he will hate the one and love the other, or he will be devoted to the one and despise the other. You cannot serve God and money.