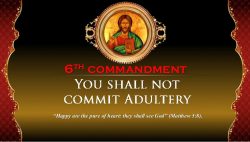 10/17 – Exodus 20:14 – YwtC: The Sixth Commandment
October 17, 2021
Old Testament Reading: Proverbs 7
My son, keep my words and treasure up my commandments with you; keep my commandments and live; keep my teaching as the apple of your eye; bind them on your fingers; write them on the tablet of your heart. Say to wisdom, "You are my sister," and call insight your intimate friend, to keep you from the forbidden woman, from the adulteress with her smooth words. For at the window of my house I have looked out through my lattice, and I have seen among the simple,
I have perceived among the youths, a young man lacking sense, passing along the street near her corner, taking the road to her house in the twilight, in the evening, at the time of night and darkness. And behold, the woman meets him, dressed as a prostitute, wily of heart. She is loud and wayward; her feet do not stay at home; now in the street, now in the market, and at every corner she lies in wait.
She seizes him and kisses him, and with bold face she says to him, "I had to offer sacrifices, and today I have paid my vows; so now I have come out to meet you, to seek you eagerly, and I have found you. I have spread my couch with coverings, colored linens from Egyptian linen; I have perfumed my bed with myrrh, aloes, and cinnamon. Come, let us take our fill of love till morning; let us delight ourselves with love. For my husband is not at home; he has gone on a long journey; he took a bag of money with him; at full moon he will come home."
With much seductive speech she persuades him; with her smooth talk she compels him. All at once he follows her, as an ox goes to the slaughter, or as a stag is caught fast till an arrow pierces its liver; as a bird rushes into a snare; he does not know that it will cost him his life. And now, O sons, listen to me, and be attentive to the words of my mouth. Let not your heart turn aside to her ways; do not stray into her paths, for many a victim has she laid low, and all her slain are a mighty throng. Her house is the way to Sheol, going down to the chambers of death.
Epistle: Ephesians 5:6–21
Let no one deceive you with empty words, for because of these things the wrath of God comes upon the sons of disobedience. Therefore do not associate with them; for at one time you were darkness, but now you are light in the Lord. Walk as children of light (for the fruit of light is found in all that is good and right and true), and try to discern what is pleasing to the Lord. Take no part in the unfruitful works of darkness, but instead expose them. For it is shameful even to speak of the things that they do in secret. But when anything is exposed by the light, it becomes visible, for anything that becomes visible is light. Therefore it says,
"Awake, O sleeper,
and arise from the dead,
and Christ will shine on you."
Look carefully then how you walk, not as unwise but as wise, making the best use of the time, because the days are evil. Therefore do not be foolish, but understand what the will of the Lord is. And do not get drunk with wine, for that is debauchery, but be filled with the Spirit, addressing one another in psalms and hymns and spiritual songs, singing and making melody to the Lord with all your heart, giving thanks always and for everything to God the Father in the name of our Lord Jesus Christ, submitting to one another out of reverence for Christ.
Holy Gospel: John 8:1–11
Jesus went to the Mount of Olives. Early in the morning he came again to the temple. All the people came to him, and he sat down and taught them. The scribes and the Pharisees brought a woman who had been caught in adultery, and placing her in the midst they said to him, "Teacher, this woman has been caught in the act of adultery. Now in the Law Moses commanded us to stone such women. So what do you say?" This they said to test him, that they might have some charge to bring against him. Jesus bent down and wrote with his finger on the ground. And as they continued to ask him, he stood up and said to them, "Let him who is without sin among you be the first to throw a stone at her." And once more he bent down and wrote on the ground. But when they heard it, they went away one by one, beginning with the older ones, and Jesus was left alone with the woman standing before him. Jesus stood up and said to her, "Woman, where are they? Has no one condemned you?" She said, "No one, Lord." And Jesus said, "Neither do I condemn you; go, and from now on sin no more."