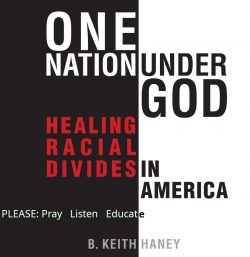 07/17 – Luke 10:25-37 – One Nation Under God: Educate
July 17, 2022
Old Testament Reading: Numbers 19:13–19
Whoever touches a dead person, the body of anyone who has died, and does not cleanse himself, defiles the tabernacle of the Lord, and that person shall be cut off from Israel; because the water for impurity was not thrown on him, he shall be unclean. His uncleanness is still on him.
"This is the law when someone dies in a tent: everyone who comes into the tent and everyone who is in the tent shall be unclean seven days. And every open vessel that has no cover fastened on it is unclean. Whoever in the open field touches someone who was killed with a sword or who died naturally, or touches a human bone or a grave, shall be unclean seven days. For the unclean they shall take some ashes of the burnt sin offering, and fresh water shall be added in a vessel. Then a clean person shall take hyssop and dip it in the water and sprinkle it on the tent and on all the furnishings and on the persons who were there and on whoever touched the bone, or the slain or the dead or the grave. And the clean person shall sprinkle it on the unclean on the third day and on the seventh day. Thus on the seventh day he shall cleanse him, and he shall wash his clothes and bathe himself in water, and at evening he shall be clean.
Epistle: 2 Corinthians 5:16–21
From now on, therefore, we regard no one according to the flesh. Even though we once regarded Christ according to the flesh, we regard him thus no longer. Therefore, if anyone is in Christ, he is a new creation. The old has passed away; behold, the new has come. All this is from God, who through Christ reconciled us to himself and gave us the ministry of reconciliation; that is, in Christ God was reconciling the world to himself, not counting their trespasses against them, and entrusting to us the message of reconciliation. Therefore, we are ambassadors for Christ, God making his appeal through us. We implore you on behalf of Christ, be reconciled to God. For our sake he made him to be sin who knew no sin, so that in him we might become the righteousness of God.
Holy Gospel: Luke 10:25–37
Behold, a lawyer stood up to put [Jesus] to the test, saying, "Teacher, what shall I do to inherit eternal life?" He said to him, "What is written in the Law? How do you read it?" And he answered, "You shall love the Lord your God with all your heart and with all your soul and with all your strength and with all your mind, and your neighbor as yourself." And he said to him, "You have answered correctly; do this, and you will live."
But he, desiring to justify himself, said to Jesus, "And who is my neighbor?" Jesus replied, "A man was going down from Jerusalem to Jericho, and he fell among robbers, who stripped him and beat him and departed, leaving him half dead. Now by chance a priest was going down that road, and when he saw him he passed by on the other side. So likewise a Levite, when he came to the place and saw him, passed by on the other side. But a Samaritan, as he journeyed, came to where he was, and when he saw him, he had compassion. He went to him and bound up his wounds, pouring on oil and wine. Then he set him on his own animal and brought him to an inn and took care of him. And the next day he took out two denarii and gave them to the innkeeper, saying, 'Take care of him, and whatever more you spend, I will repay you when I come back.' Which of these three, do you think, proved to be a neighbor to the man who fell among the robbers?" He said, "The one who showed him mercy." And Jesus said to him, "You go, and do likewise."