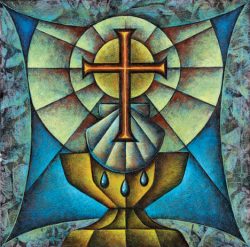 05/15 – Mark 1:9-11 – What does Baptism indicate?
May 15, 2022
Old Testament Reading Hosea 2:14–20
"Therefore, behold, I will allure her,
and bring her into the wilderness,
and speak tenderly to her.
And there I will give her her vineyards
and make the Valley of Achor a door of hope.
And there she shall answer as in the days of her youth,
as at the time when she came out of the land of Egypt.
"And in that day, declares the Lord, you will call me 'My Husband,' and no longer will you call me 'My Baal.' For I will remove the names of the Baals from her mouth, and they shall be remembered by name no more. And I will make for them a covenant on that day with the beasts of the field, the birds of the heavens, and the creeping things of the ground. And I will abolish the bow, the sword, and war from the land, and I will make you lie down in safety. And I will betroth you to me forever. I will betroth you to me in righteousness and in justice, in steadfast love and in mercy. I will betroth you to me in faithfulness. And you shall know the Lord."
Second Reading Acts 2:37–41
Now when they heard this they were cut to the heart, and said to Peter and the rest of the apostles, "Brothers, what shall we do?" And Peter said to them, "Repent and be baptized every one of you in the name of Jesus Christ for the forgiveness of your sins, and you will receive the gift of the Holy Spirit. For the promise is for you and for your children and for all who are far off, everyone whom the Lord our God calls to himself." And with many other words he bore witness and continued to exhort them, saying, "Save yourselves from this crooked generation." So those who received his word were baptized, and there were added that day about three thousand souls.
Holy Gospel Mark 1:9–11
In those days Jesus came from Nazareth of Galilee and was baptized by John in the Jordan. And when he came up out of the water, immediately he saw the heavens opening and the Spirit descending on him like a dove. And a voice came from heaven, "You are my beloved Son; with you I am well pleased."