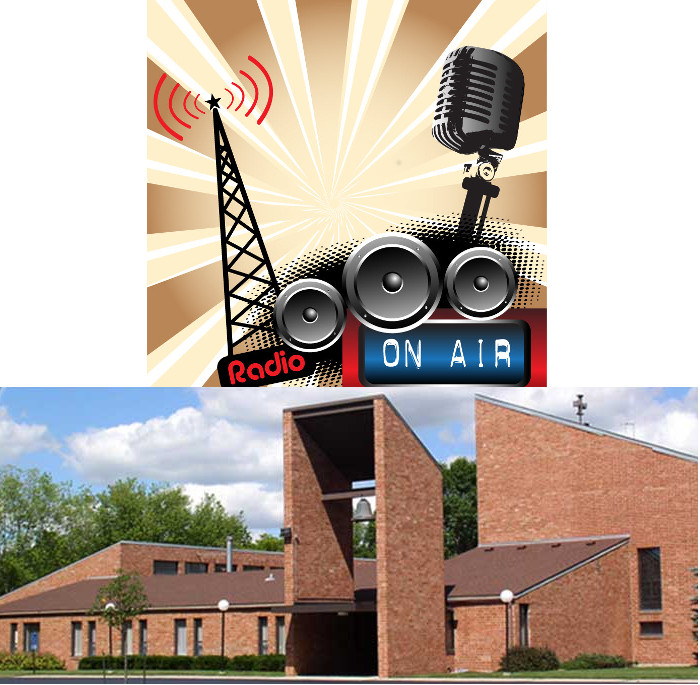 St. John's Lutheran Church
70 Years of Live Radio Broadcast
The History
June 6, 1948, St. John's first live radio broadcast was on KAUS radio.
Rev. William Milbrath was the first pastor of St. John's to preach on the radio.
The first radio announcer and engineer was Ralph Nagle.
Martin Holte was engineer and announcer for many years; Marno McDermott would sub when Martin was gone, and Rodger Bliese assisted Martin Holte with the radio broadcast.
Rev. Robert Hamp was the pastor of St. John's from 1956-1968.
In 1963 the radio station told St. John's that a change in policy at the station meant there would be no religious broadcast in the morning; it could broadcast the service in the evening.
On March 10, 1963, St. John's switched the Sunday morning broadcast to station KQAQ.
1963-1968 Douglas Schmidt was the engineer and announcer.
In 1967 Elmer Wuertz became the head of the St. John's Mission, which was set up to raise money; he was also to be in charge of a special account for the radio broadcast.
Rev. Curtis J. Schleicher was the pastor of St. John's from 1968-1981.
In 1968 Mel and Marie Precht were in charge of announcers for the Sunday morning service.
In 1968 Erwin Schmidt was the chief engineer.
Christy Hansen was the engineer and announcer from 1968-1971.
Douglas Schmidt returned as engineer and announcer from 1971-1978.
From 1979-1981 David Ulwelling was the engineer and announcer.
In 1981 Erwin Schmidt was the engineer, and there were many announcers, including Norbert Narveson, Louis Stadheim, Roger Jacobs, Lisa Meier St. Peter, Wesley Klinger, John Van Proosdy, Cliff Blowers, Bill Blowers, Marie Brands, John Cafourek, Brian Auringer, Bob Schulz, Elaine Foss, Florence Dorn, Mark Bliese, and David Grant.
Rev. David W. Hoover was the pastor of St. John's from 1983-1985.
Rev. William J. Natzke was the pastor of St. John's from 1986-2008.
From 1988-1990 Rick Ostgulen was engineer and announcer.
In January 1989 a new sound system and radio control system was installed.
From 1990-1991 Erwin Schmidt was the engineer, with Dale Siegfreid, David Grant, Brody Swedberg and Nathan Wardislavsky as announcers.
On May 19, 1991 St. John's radio broadcasts returned to station KAUS.
In 1992 Dale Siegfreid became the chief engineer of St. John's radio broadcast. Dale Siegfreid and David Grant served as announcers.
In 2002 Bill Blowers joined as a radio announcer.
Pastor Robert Stohlmann was the interim Pastor of St. John's from 2008-2009.
In 2008 Miriam Luehmann joined as a radio announcer, and Miriam and Dale Siegfreid continue to be announcers today; no longer was there a separate person as an engineer.
Pastor Thomas Ogilvie was the pastor of St. John's from 2009-2014.
Pastor Robert Bailey was the interim pastor of St. John's from Dec. 2014-April 2017.
Pastor James Groleau came to St. John's in April of 2017 and is the current pastor of St. John's.
Treasurers for St. John's radio ministry over the years have been Elmer Wuertz, Arnold and Helen Schlichting, Louis and Ileta Meier, Don and Gertrude Rector. For the past 24 years Clayton and Ellen Petersen have filled this position.
St. John's has been blessed to have many families and people over the years sponsor the radio broadcasts. Families that come to mind are the Andersons, Andrees, Augustins, Auringers, Barclays, Bradys, Brands, Brandts, Blieses, Blowers, Carlsons, Claussens, DeBoers, Dennys, Fabers. Freeses, Gilsruds, Grabaus, Grants, Hartwigs, Kamps, Kiehnes, Kings, Klingers, Klingfuses, Krugers, McDermotts, Meiers, Naulins, Narvesons, Olderburgs, Patzers, Petersons, Prechts, Rectors, Ruuds, Russels, Schammels, Schleichers, Schmidts, Schulzes, Seltzes, Stacys, Stadheims, Stroufs, Warnsholzes, Wollenburgs, Woods, Wuertzes, Yonkes and many more. The St. John's LWML sponsors the radio broadcast each year on LWML Sunday in October. The Ladies Aid from Trinity Lutheran in Waltham have been regular sponsors of the radio broadcast. There are many families and persons who donate to St. John's radio broadcast in memory of a loved one or in thankfulness to God for an occasion in their lives, such as an anniversary. Some families pick a certain Sunday year after year to sponsor the broadcast. One such family is the Graff Family, which, from the beginning, has always sponsored Easter Sunday.
When the Graffs began sponsoring the radio broadcast, it was in memory of Ervin and sons, Chester and Louis Graff. It was originally sponsored by Herbert, Vernon, Marvin, & Lorraine Graff, all children of Ervin. As time went on, the older family members passed away, so the sons and daughters of the family took over the sponsorship. They are Rod - son of Herbert; Vernon, Jr., Tom, Marilyn, Jonathan, Margaret, and Martha – children of Vernon; Randal & Bradley – sons of Marvin; Duane – son of Louis, and Steve – son of Lorraine.
Now spouses of the original Graffs are also included in the memorial: Marie (Ervin), Marie (Vernon), Mona (Herbert), Gloria (Marvin), and Ralph Wright (Lorraine).
St. John's is thankful and blessed to be able to continue this outreach ministry with the continued support of the congregation and the community.