September 1907, the Rev. C. A. Affeld of Trinity Lutheran Church, Waltham, MN, met and conducted services for several families near Austin.
On September 18, 1908, the congregation of St. John's signed the constitution and became incorporated.
On July 21, 1911, the Rev. W. F. Milbrath was installed as the first resident pastor. The service took place in the old St. Olaf Lutheran Church. Rev. Milbrath was a graduate of Concordia Seminary, St. Louis, MO. And was called from Lakefield, MN. He arrived in Austin in July 1911 with his bride of a few days, Carla Schuldt, also from Lakefield.
In 1911 the congregation purchased its first parsonage, located at 302 South 1st St. (now 5th Street SW). This property was vacated in November of 1977 and sold in December of 1978.
In 1913 the congregation purchased and rededicated the frame building it had been renting from the Seventh Day Adventists.
On September 8, 1913, St. John's Lutheran School was established with Rev. Milbrath the only teacher for the first 12 years.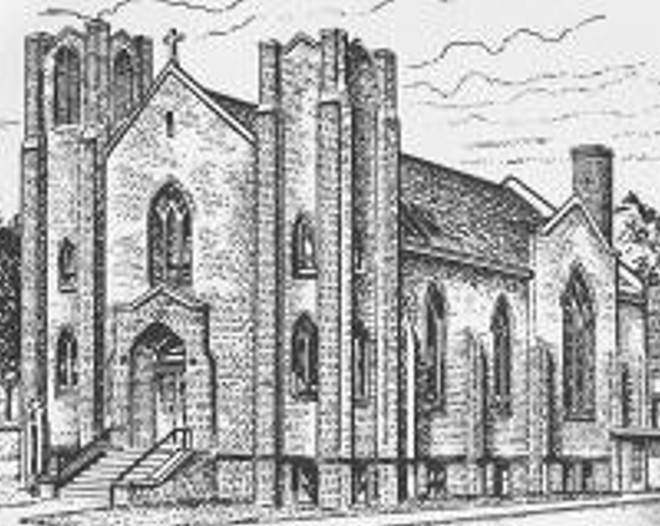 Construction of a new church building was begun in 1922. On May 27, 1923, St. John's dedicated its new church, located on the corner of Kenwood and College Avenues (now 4th Street and 2nd Avenue SW). As the congregation grew, it fostered several new daughter congregations: St. Paul's Lutheran, Hollandale; Zion Lutheran, Albert Lea; Holy Cross Lutheran, Austin; St. Luke's Lutheran, Lansing; and Our Savior's Lutheran, Blooming Prairie.
In 1941, a group of members severed their connection with St. John's and formed St. Paul's Lutheran Church, Wisconsin Synod.
Broadcasting our service over the radio began on June 6, 1948 over KAUS radio and still continues today. The first radio announcer and engineer was Ralph Nagle. Martin Holte was engineer and announcer for many years; Marno McDermott would sub when Martin was gone, and Rodger Bliese assisted Martin Holte with the radio broadcast.
On May 10, 1953, the new school classrooms and gymnasium were dedicated.
On May 6, 1956, Pastor Milbrath was suddenly called to his eternal rest in a fatal automobile accident.
On October 28, 1956, the Rev. Robert Hamp was installed.
In 1964, Holy Cross constructed a school building large enough for all of the elementary grades.
On October 2, 1965, a meeting was held to determine the future building needs of the congregation.
In 1967, Our Savior's of Brownsdale, Holy Cross of Austin and St. John's formed the Central Lutheran School Association to support the school located at Holy Cross. With this move to the Holy Cross School building, the school became known as Central Lutheran. This association absolved in 1980.
On January 21, 1968, Rev. Hamp left to accept a call to Sioux City, IA.
On May 7, 1968, the congregation chose, through the medium of a questionnaire, to build a new church.
On October 6, 1968, The Rev. Curtis J. Schleicher was installed.
On May 2, 1971, the groundbreaking ceremony for the present facilities was at 1200 13th Ave. NW.
On April 9, 1972, the present church was dedicated.
In 1977 a new parsonage was constructed at 1401 10th Street NW and Pastor Schleicher and his family moved in in November 1977.
On December 31, 1983, Rev. Schleicher retired.
On September 23, 1984, the Rev. David W. Hoover was installed.
On December 31, 1985, Rev. Hoover left to accept a call to the Iowa East District.
On July 6, 1986, the Rev. William J. Natzke was installed.
The library was started in the old church and moved to the new church conference room. In 1990 it was moved to its own space which was portioned off from the Youth Room. In 1992 the library expanded to include videos.
The addition by the East entrance and renovations to the entire building were completed in 1995.
The fellowship hall was dedicated as Schleicher Hall on the 90th Anniversary on Sunday in 1997.
Troy Miller was installed as Director of Christian Education and Family Ministries on July 6, 2003.
The dedication for the Grand Piano in the sanctuary was Sunday, March 26, 2006.
During the summer of 2006, the parochial school located at Holy Cross, which began in 1913 at St. John's, decided to close its doors because of lack of students and financial concerns.
We started using our new hymnals on September 23, 2007.
Pastor Natzke retired. His last day at St. John's was August 24, 2008.
On August 9, 2009, the Rev. Thomas Ogilvie was installed.
The Audio-Visual system in the sanctuary was installed the end of October, 2012.
The beginning of January 2013, we started Live Streaming our Sunday morning worship services.
On November 30, 2014, Rev. Ogilvie left to accept a call to Williamsburg, IA.
On December 31, 2015, Troy Miller resigned as DCE of St. Johns Lutheran Church and moved.
On April 9, 2017, the Rev. James Groleau was installed.